Integrity, Craftsmanship, Health, Safety, Affordability,
At Revolution Furnishings we build furniture with intention. We are proud to be driven by a customer-first attitude, guided by a simple set of core values:
Our Core Values | Keep it simple:
Integrity – One of the most rewarding elements of small business is the ability to remain close to your customers. It's a connection we cherish, and it drives us to perform at our highest level every day. We treat our customers as we do our friends and family, and as with any relationship, trust and the Golden Rule are the foundation of everything we do.
Craftsmanship – Once a standard in the furniture industry, today craftsmanship is a differentiator worth celebrating. We build our furniture with longevity and durability in mind and pay attention to the finer details that turn our efforts into 'furniture pieces' not just pieces of furniture. We use only the highest quality solid woods and furniture-grade veneers as the building blocks for everything we do. Our furniture is assembled by hand, sanded and prepared for finish by hand, and finished by hand — with care.
Health – Health of our teammates and health of the families who welcome our products into their homes is paramount to us. Accordingly, we choose materials that are as clean and close their natural state as possible. This means relying on locally sourced solid wood as much as possible, as well as formaldehyde-free plywood fabricated with soy-based adhesives from the US and Canada. Our minimum standard for any materials going into our furniture is CARB 2 compliance. Our standard stains are GREENGUARD certified and our standard lacquer system is HAPS Free and ultra-low formaldehyde. For the ultimate piece of mind, we offer a GREENGUARD certified lacquer system on request.
Safety – With our roots in youth furniture, we feel a responsibility to protect our youngest family members. We design and craft all our furniture with this in mind. With craftsmanship comes strength, and strength eliminates many of the hazards that is seen in today's furniture. All our storage cases exceed the most current ASTM F2057 standard safety specification. We ship every case, even those under 30″, with a set of anti-tip brackets.
Affordability – We strive to make our furniture accessible as possible. While integrity, craftsmanship, health, and safety are non-negotiable components of our furniture; once those bases are covered we do everything we can to keep our costs efficient. Our designs are clean and minimal, referencing classic and contemporary style elements while staying anchored in the beauty of simplicity. We leverage modern CAD technology to maximize the yield of raw material we use. We continually seek to minimize our waste by finding ways to put scrap to use, including making new furniture from it. When it comes to drawer boxes, we offer two levels to choose from. Our standard box is constructed from solid birch plywood which offers substantial cost savings over our premium option. Even the material for our premium boxes is sourced for cost efficiency. Rather than hold our prices high to protect ourselves from seasonal swings in the raw material market, we shop the the same way you shop a farmer's market — looking for the best material that is currently in season. When it comes time to ship our products, we seek partnerships with retailers that are able to receive our furniture wrapped in reusable blankets. Not only is this a substantial cost savings over standard furniture packaging, but it reduces a significant waste stream from entering our local environment.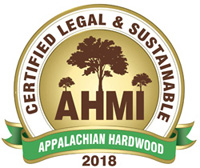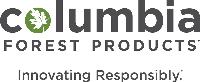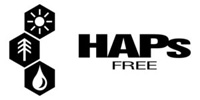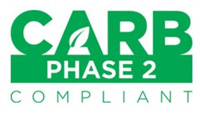 Locally made furniture, crafted from honest materials. Custom, made just the way you want it in less than six weeks. At Revolution Furnishings, "Pride of Craft" is a common refrain. Pride in the craft of building a quality piece of furniture that our customers will enjoy for years to come. Pride in using materials that are locally sourced as close to their natural state as possible. Pride in keeping the health and safety of our teammates and customers at the forefront of our mission. Pride in our effort to return local manufacturing to the thriving place it held in our communities not that long ago.
Take a closer look – we think you will be glad you did.
Our Ingredients | Or should we call them nutrition facts?
From time to time, customers ask us if our furniture has any 'green' certifications, such as GREENGUARD, FSC, Green Seal, etc. The short answer is: Nope. Why not? Because we haven't yet found a certification that appears to justify it's costs. In our mission to drive as much value as possible into our furniture, we don't feel this is a cost burden our customers want to bear. Our approach is similar to what you find at the local farmer's market: few organic certifications but many farmers proud to discuss how clean and sustainably they raise their crops. If you ever have any questions about the materials we use in our furniture, don't hesitate to ask. Here's a snapshot of what goes into our products:
A.

Tops, Fronts, Legs, Posts, Feet, Moldings, Stiles, Rails, Frames –Solid wood, harvested as close to home as possible. We support local mills; depending on the species, much of the hardwood we use comes from the New England states, Appalachian region, or Canada.

B.

Sides, Shelves, Internal structural members – Depending on the style, either solid wood or formaldehyde-free, Purebond veneer-core plywood (fabricated with soy-based glue). North American origin (US and Canada).

C.

Case backs – 1/4″ CARB 2 compliant veneer-core plywood. Imported origin.

D.

Beds: Framed Panels with Bead – 3/8″ CARB 2 compliant MDF-core plywood. The only place we use a composite wood product is for our framed bed panels with beaded treatment. These use a MDF-core product to ensure bead profile consistency. Of course, this product is CARB 2 compliant for ultra-low emissions.

E.

Decorative and Functional Hardware – Knobs, pulls, hinges, drawer slides, screws: Domestic and imported sources. Our drawer slides are ball bearing, rated for 100 lbs each pair. All hinges are soft-close for quiet operation.

F.

Drawers – We have two options available, both constructed with English dovetails on all four corners.

Our standard drawer is constructed from unfinished CARB 2 compliant solid birch plywood for sides and backs and a finished veneer-core formaldehyde-free plywood bottom.
Our premium drawer is solid wood, sourced to balance quality and cost as seasonally available. Typically, this means maple, basswood, beech, cherry, or poplar. Drawer bottoms are CARB 2 compliant plywood. The entire drawer is finished (sides, backs, bottoms).

G.

Finish – All finishes are a solvent-based pre-catalyzed lacquer. This is a kitchen and bath grade finish system with outstanding durability characteristics.

Our standard stains are GREENGUARD certified for ultra-low emissions.
Our standard lacquers, pigmented for our solid colors and water-white for stains and natural finishes, are HAPs free and low formaldehyde.
Optionally, for a completely GREENGUARD certified finish, we can use Enviromax, a HAPs free, formaldehyde-free, low odor finish system.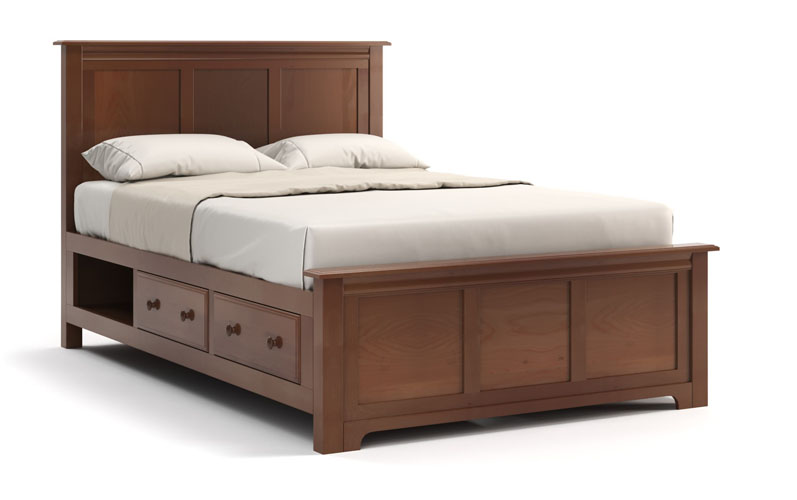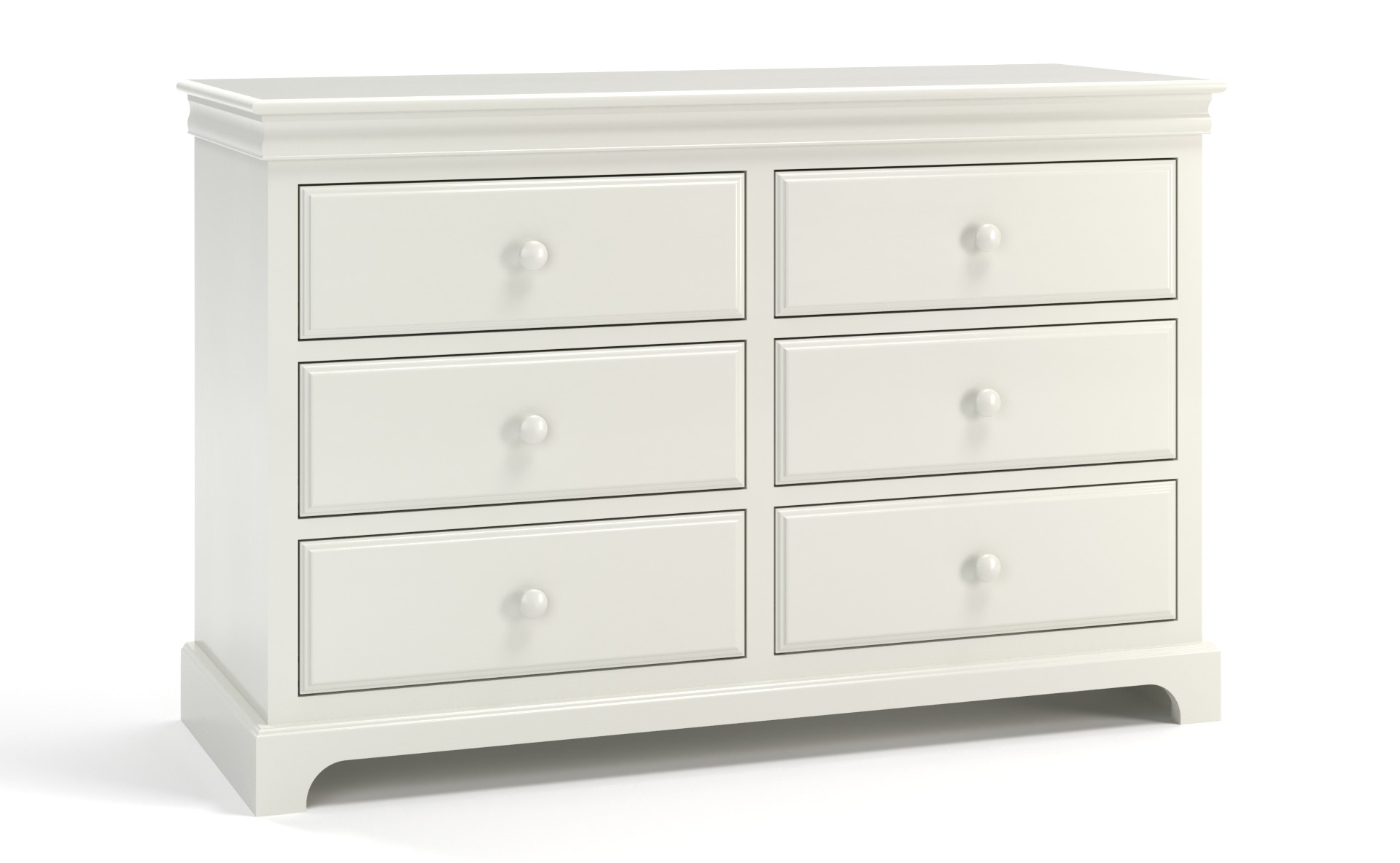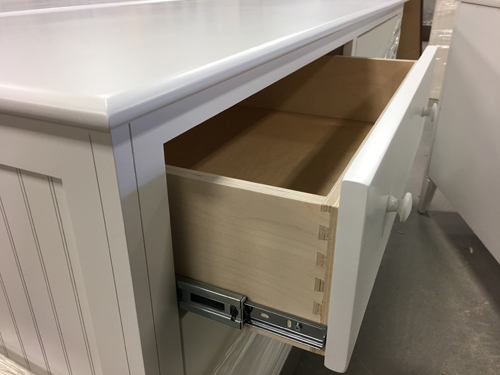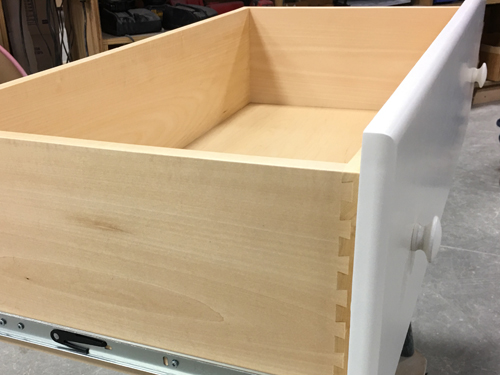 Standard Drawer Box
Premium Drawer Box